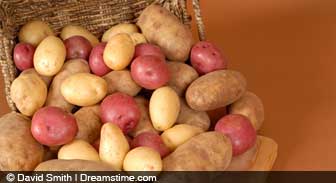 Idaho's cuisine is associated with the traditional recipes of the Rocky Mountain West region of the country. Native Americans and early frontier people both contributed to Idaho's culinary styles, and their influences can still be found in some of the state's cuisine. Vacationers can experience the tastes of the Gem State at local restaurants, or by visiting a food festival.
Rocky Mountain West Cuisine
The hearty cooking of cattle ranches and cowboys help define the culinary styles of the Rockies. Dishes like chili, steaks, barbecue, and fresh fish are among some of the staple foods in the Rockies' culinary traditions.
Food items distinct to the region include wild game, freshwater fish, grass-fed beef and bison, free-range poultry, local fruits, berries, and mushrooms. The lean meat of wild game is a signature of the region's cooking, often used in pates, stews, sausages, or steaks. Elk, antelope, caribou, pheasant, duck, and quail are among the wild game you'll find served up from hunter's camps.
Frontier Foods
During the early 1800s, fur trapping and trading were big industries in Idaho. Farmers arrived in the state in the 1840s, and in 1860, gold was discovered in the Gem State. Chinese immigrants originally came to Idaho to mine the lands, but when the industry declined, they became vegetable farmers and tradesmen. They grew their vegetables on terraced mountain terrain, which was the cheapest way to farm. Idahoans came to rely on these Chinese vegetable farmers for their door-to-door fresh produce deliveries.
European immigrants to settle in Idaho included the Finns, Welsh, and Basque. While bread and beans were the main diet of early settlers, each group included their own native dishes in their cuisine. A favorite dish of the Finnish was Lobinmuhennos, a salmon chowder. The Welsh contributed Bara Birth, a raisin and currant bread, to the state's culinary styles. Lamb stew and split pea soup were traditional dishes of the Basque, who are also credited with a spicy sausage called chorizo. Chorizo is still produced in Idaho today. Basque shepherds also baked sourdough bread, in which they slashed the sign of the cross before baking.
Locally Grown
Huckleberries
With several species native to the state, the huckleberry is Idaho's official state fruit. The slow-growing plants can take up to 15 years to reach full maturity, and black huckleberries produce single dark berries on their new shoots. The berries survive during the winter under insulating blankets of snow. Though some have attempted the commercial growing of huckleberries, it hasn't been successful.
Potatoes
In 2002, the Legislature declared the potato to be Idaho's state vegetable. Potatoes thrive in Idaho because of the state's rich volcanic soil, water, clean air, and climate, which produce high-quality potatoes.
The first potato farmer in Idaho was Harmon Spalding, who began planting in 1836. Homesteaders then began growing potatoes to sell to miners who came to the state. The commercial farming of potatoes was first done by Mormons.
Now, around the country, Idaho Russet Burbank potatoes are known for their high starch and low moisture content, which make them great for baking. This long, white potato with russet skin was developed by Luther Burbank, and it has helped Idaho to become the leading producer of potatoes in the U.S.
Other Idahoan Products
Dry farming is prevalent in Northern Idaho, with crops like wheat, dry peas, and lentils, as well as barley and hops. Aside from potatoes, the rest of Idaho's produce is mostly made up of herbs, spices, broccoli, and some asparagus. The Treasure Valley area is known for the cultivation of mint and spearmint, while Magic Valley raises more trout per square mile than any other place in the world.
Many Idahoans have their own homegrown crops, which include apples, often used to make jelly; and plums, which are sometimes turned into prunes for prune butter, prune-whip pies, and spicy prune pudding.
Food Festivals
Apart from dining at local restaurants and eateries, food festivals are a sumptuous way to sample some of Idaho's local cuisine.
The Emmett Cherry Festival has been held for more than 73 years, and features a cherry bake-off, cherry pit spitting contest, lots of food vendors, and a Jr. Miss Cherry Festival Pageant. Another festival for fruit is the Raspberry Festival in Cottonwood. Held at the Historical Museum, the Raspberry Festival is a popular summer event that brings in more than 1,200 people. The berries picked from vines are used to make jams, mustard, and the festival's famous raspberry shortcake.
The Greek Food Festival is an extravaganza of Greek fare. The event is held in Boise on the first Saturday and Sunday of June. Dishes like spanakopita, gyros, baklava, and dolmades are just a few of the Greek goodies you can sample at the fair.
From frontier foods to home recipes at local food fairs, the Gem State serves up traditional Rocky Mountain cuisine along with other dining delectables. Whatever tempts your taste buds, Idaho won't leave you hungry.
Print this Article