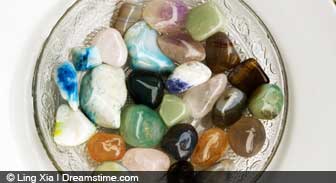 Crafts are not only a hobby, but for many people they are a way of life. Idaho's folk life and culture have been shaped by the craftspeople of the state. Early native craft workers were indigenous Indian tribes who made crafts for everyday use. Immigrants to the state also contributed their traditional crafts methods to local folk art. Now, vacationers can experience authentic crafts from artists of the past at museums. More modern works can be explored at craft shows and fairs, where you can also purchase handmade items as souvenirs of your Idaho vacation.
Early Influences
Native Americans
The indigenous Native Americans of Idaho have greatly influenced the culture and folk life of the state, including in the area of crafts. Vacationers can explore tribal craftsmanship at Native American festivals and museums, where authentic handmade crafts are exhibited and many are for sale.
The Kootenai, Coeur d'Alene, Nez Pierce, and Shoshone were a few of the most prominent Native American tribes living in Idaho and surrounding regions before European explorers arrived. They made crafts like baskets and pottery out of necessity for everyday survival, using available materials like stone, wood, plants, fibers, and animal products. Flaked, pecked, and ground stones were used for processing plant and animal parts and cutting wood. Wood was crafted into weapons like bows, arrows, and shelters, while plant products were used to make carrying bags, baskets, clothing, and cordage.
Pottery was also a necessary craft of the early peoples, but not quite as important as basketry. Clays from stream banks were mixed with water and shaped into vessels, then left by a fire to dry. After drying, the item was placed on a bed of coals, and a fire was built around it to harden the clay. The finished product was used to hold water, boil meat, or store seeds. Animal products like bones, horns, antlers, and hides were used to craft items like clothes, weapons, cups, and spoons.
Now, travelers can view authentic Native American crafts at places like the Shoshone-Bannock Tribal Museum. Here visitors can learn how the Shoshone and Bannock tribes lived. Museum patrons also have the opportunity to purchase native folk art. Elsewhere, the Idaho Museum of Natural History in Pocatello exhibits ancient artifacts like Shoshone cooking pots and baskets, the sagebrush shirt of a North Paiute man, and a bone awl.
Basques
More Basques live in Idaho than any other state in country. The most prominent forms of decorative art in the Basque culture are woodcarving and stone engraving. These crafts are particularly used on the upper frames of doors and on tombstones. Vacationers can get a glimpse of Basque history and folk life at the Basque Museum and Cultural Center in Boise.
Places For Crafts
Along with museums, where you'll find ancient crafts displayed, there are a number of craft-specific venues throughout the state where you can view and purchase handmade art.
Hands On contemporary ceramics studio in Twin Falls offers those interested in crafts a chance to paint their own pottery, plus make mosaics, fused glass, and metal projects. The studio is open year-round, but check ahead for hours and fees. Also, at J. Ginn Custom Bit and Spur, run by craftsman Jerry Ginn, vacationers can learn more about the craft of handmade bits and spurs. Sought out as family heirlooms, these pieces are considered by some to be collectible Western art. Ginn specializes in Buckaroo-style spurs and spade bits in gold and silver ornamental designs. Located in Stites, Custom Bit and Spur is open year-round, but hours vary by season.
Festivals and Shows
Craft shows and fairs are great ways to get a feel for local folk art in a fun and festive environment.
Held on the fourth Saturday in October, the Mini-Cassia Craft Fair in Rupert features quilt work.

The Enchanted Village Craft Show is held in November at the Cobblestone Creek Nursery in Chubbuck. This event features quality crafts and collectibles, perfect keepsakes of your adventures in Idaho. Admission is free, making it a great outing for travelers on a budget.

The Crafts in the Country in Filer is an indoor event held at the Twin Falls County Fairground. Only homemade craft items are allowed at the event to ensure authentic works.

In November, the In The NICK of Time festival includes two floors of handmade crafts and seasonal gifts for the holidays. This event is the largest of its kind in Southeastern Idaho.
Local Craftspeople
The contemporary works of local craftspeople encompass many styles and mediums. Textiles include hat-making by artists like Sayra Adams. A number of craftspeople create items made from elk and deer antlers, such as Thomas and Thia Frasier of TNT Antler Art in Weiser. William Fletcher creates furniture from antlers, which is available at Selkirk Antlers in Sandpoint, and Jan Adams has been painting on antlers for over 24 years. You can find her work at Idaho Wildlife Originals Antler Art in Grangeville. In Clark Dor, Sam Silverhawk runs Silverhawk's Creations, where you'll find gemstones and ivory carvings for jewelers' use, as well as hand-wrought silver jewelry.
Crafts are a deep-running part of Idaho's culture and heritage. Vacationers can experience the Gem State's folk life through the works of Idaho craftspeople at a number of folk art outlets. From ancient Native American works to the contemporary pieces of area artists, Idaho has a craft culture like no other.
Print this Article
Related Articles

The excellent arts and entertainment scene in Idaho has visitors applauding.